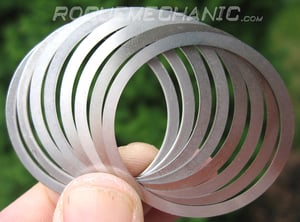 $

45.00
:::: Now Available! New Low-Profile Shim Kit! ::::
Here's the Shim Kit that I came up with for the RogueMechanic Waveywasherectomy Procedure. Kit contains the following stainless steel shims: 2- 1.0mm, 2- 0.5mm, 2- 0.2mm, 2-0.1mm.
Made in U.S.A.
Available for both English and Italian bottom brackets.

NEW!!!---->Installation Video

Check out www.roguemechanic.com for instructions and other info.